What can we help you find?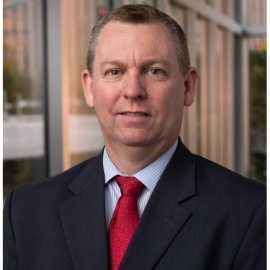 Scott Carter
Senior Vice President, Chief Operating Officer of Distribution Operations and President, Spire Missouri
As senior vice president, chief operating officer of distribution operations and president, Spire Missouri, Scott Carter connects all operational pieces of the business to ensure Spire is providing exceptional service to all customers in both eastern and western Missouri.
Scott has been with Spire since 2016, previously serving as chief operating officer of distribution operations. With more than 20 years of industry experience, he's held many executive roles in the natural gas sector. Prior to joining Spire, Scott served as AGL Resource's primary advocate regarding national and state regulatory policies affecting the natural gas industry.
Scott holds a bachelor's in accounting from Valdosta State University and an MBA from the University of Georgia. In his community, he has served roles supporting the American Red Cross, Habitat for Humanity and United Way. Currently, Scott serves on the board of Concordance Academy in St. Louis along with Missouri Partnership. He also sits on the board of the Kansas City Area Development Council.