default
Name
Mother and Daughter Hero Image
Discover simple ways to save on your energy bills
Seal your windows
Apply window sealing caulk to the interior and exterior windows in your home to keep air inside. 
Adjust your water heater's thermostat
Most water heaters are set to 140 degrees Fahrenheit by default, while 120 degrees is an effective temperature and can also help you benefit from lower energy bills.
Seal your chimney
Temporarily or permanently seal your chimney flue to prevent unnecessary (and colder) air flow.
Add a bottom door seal
This simple hack is great for noise and unwanted drafts. 
Clean your vents
Regularly cleaning your vents can ensure air is continuously flowing. 
Change your furnace filter
New filters mean more freely flowing and cleaner air for you and your family. 
Lowering your utility bills starts with understanding your home's energy usage
Did you know your monthly Spire bill includes a chart with your average natural gas usage? You can view this information in two ways:
Online by logging in to My Account 

On your monthly bill (available on paper and electronically in My Account)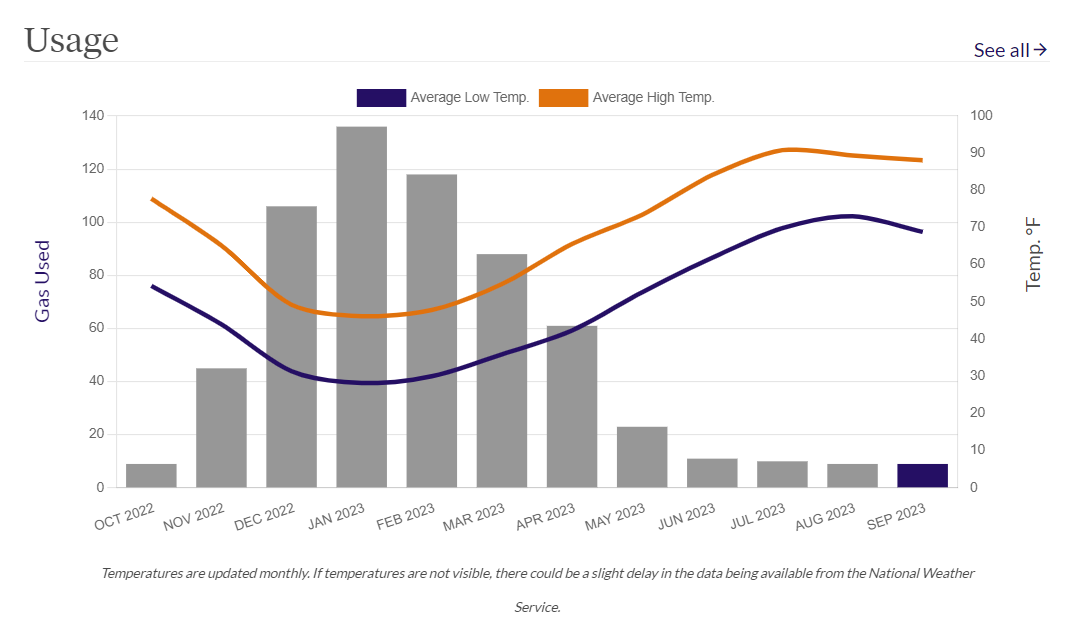 While the weather and the price of energy both play a role in all monthly energy bills, the purpose of this information is to help you understand how your own personal habits can lower your bills. 
More ways to save
When warming your home...
Stay cozy by insulating and sealing outer walls, ceilings, windows, doors and floors.

Let hot air flow freely by keeping clutter away from registers, heaters and radiators.

Avoid the fall rush by having your furnace inspected in late summer or early fall.  

Keep cold air out by closing your fireplace damper when it's not in use.

Manage your home's energy use even when you're away with a programmable thermostat.

Bonus tip: Find rebates for this energy-saving device by visiting our rebates and offers section.
When heating your water...
Save on water-heating costs by taking showers instead of baths.

Conserve hot water by pre-rinsing dishes and clothes in cold water.

Boil water faster by covering your pot.

Heat water more efficiently with a water heater that's the right size for your home.

Use less water by only doing full loads of dishes and laundry.
When preparing your meals...
Prevent energy waste by never cooking with a flame that exceeds a pan

'

s width.

Give your gas range a break and preheat the oven only when necessary.

Cook vegetables faster by cooking them in a small amount of water.

Maintain a consistent oven temperature by keeping the door closed. Each time it's opened, it loses 20 percent of its heat.
On
Energy assistance options
If you're worried about how to pay higher winter bills, help is available through Spire's team of dedicated community support specialists. View all programs and apply today.
Name
Agency Assistance Hero
Understanding your bills
Learn more about what goes into your monthly Spire bill. 
Name
Paperless billing hero
Small steps, big savings
Investing in a programmable or smart thermostat makes it even easier to save money and energy at home. You may even be eligible for a programmable thermostat rebate.
Name
Woman adjusting thermostat